Products and Pricing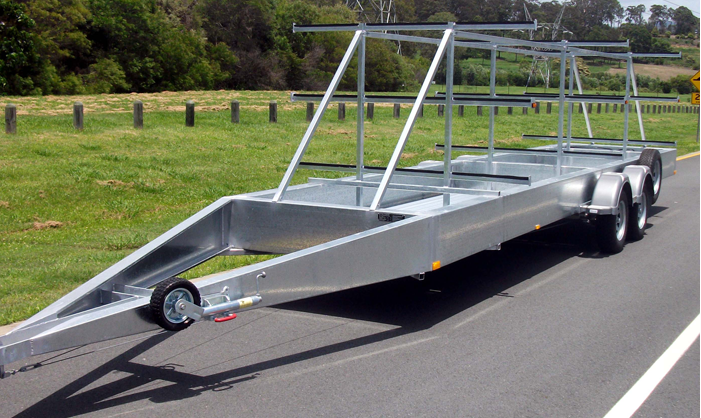 Design
Australian Rowing Trailers delivers your fleet with the best possible ride, by providing a strong and stable sub-frame which ensures the least amount of road vibration through your precious boats. The trailers are specifically designed to achieve excellent balance for maximum safety and carefree towing. Australian Rowing Trailers meet and exceed the National Code of Practice for Building Small Trailers (Under4.5 tonnes) and the Motor Vehicle Standards Act 1989, as well as meeting specific state requirements for oversized loads.
Every Australian Rowing Trailer combines proven design characteristics with customised solutions to provide the right trailer for the customer's needs.
Standard Features
T-Lock Drawbar system –Unique Australian Rowing Trailer engineering, which ensures that all towing and braking forces are applied into the design of the trailer, not just relying on the fasteners.
Fully Galvanised Racking –The Racking system is hot dip galvanised to ensure maximum anticorrosion where the trailer needs it the most.
Zinc Coated Frame –The zinc coated elements of the trailer provide excellent rust resistance and allows a strong trailer with a reasonable weight.
LED Lighting –Complete LED light system.
Galvanised Running Gear -Galvanised Wheels, axles and leaf springs with over-ride disc brakes, coupling and one spare wheel.
Dual Jockey Wheel –Australian Rowing Trailers come standard with dual jockey wheels, one swing up and one clamp on, to ensure safety and flexibility when using different tow vehicles.
Rubber Capping –To ensure your boats are not damaged by chaffing whilst in transit.
Rack Lugs –Providing security, by stopping your ties and boats from accidentally coming off.
Custom Paint –Australian Rowing Trailers will ensure your new trailer will match your team colours with the highest quality two pack paint.
Please talk to our friendly staff for more information.
Contact us on 0435 388 147 .
To order - please phone our sales team on 0435 388 147. A 50% deposit is required to commence construction on all trailers.

Delivery – priced from $200 according to location.